Extended Stat
---
ExtendedStatComponent is used to implement more advanced stats like health / stamina /mana.
StatsManagerComponent stores only informations about max / top and modifier values.
ExtendedStatComponent allows to add min, current values and regeneration.
Let's take a look at BP_CombatCharacter, it has ExtendedHealth and ExtendedStamina components.
We can modify few variables.
Type

- type of stat to bind to

DoesRegenerates

- regenerate when current value is less than max

RegenValue

- how much value will be regenerated each tick

ReenableRegenTime

- when regeneration is interrupted, e.g when attacking, it will start regenerating again after that time
There is no max value variable to set, because it will be taken from StatsManagerComponent.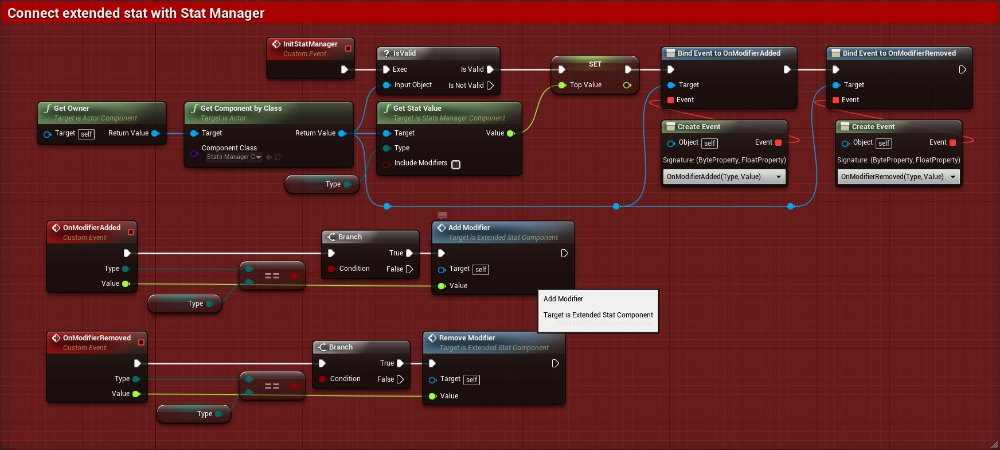 ---
Function ModifyStat allows to modify extented stat.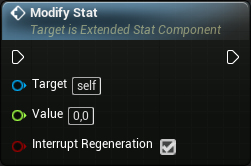 Value

- value that will be added to current value, should be negative to subtract)

InterruptRegeneration

- whether regeneration should be interrupted (and re enabled after delay) or not
GetCurrentValue, GetMaxValue allows to retrieve current and max values.